Better calves through optimal nutrition in the dry period
More and more is known about the relationship between the diet in the dry period of the mother cow and the health of the calf.
A shortage of trace elements in the dry period ration has direct consequences for the 'start resistance' of the calf. Colostrum quality and quantity can be disappointing as a result. Even though sufficient colostrum is given quickly after birth, these calves remain more sensitive to diarrhea and respiratory diseases (source: GD).
The role of vitamin E is very important. It helps protect the body against oxidative stress. This can arise when harmful substances (free radicals), which are released during metabolic processes or infections, are insufficiently cleared or neutralized. A vitamin E deficiency is often associated with a reduced resistance.
It is striking that the vitamin E content in the cow's blood decreases sharply around calving. This is on the one hand due to a lower feed intake and on the other, because a lot of vitamin E goes to the colostrum. Vitamin E is very important for the newborn calf.
For a good supply of trace elements and vitamins to pregnant cows in the dry period, it is important that the feed intake remains at the right level. A good addition is the use of a dry period bolus during this period, in order to give the calf a good 'start resistance' and to support the dairy cow.
Topro Dry bolus supports and helps!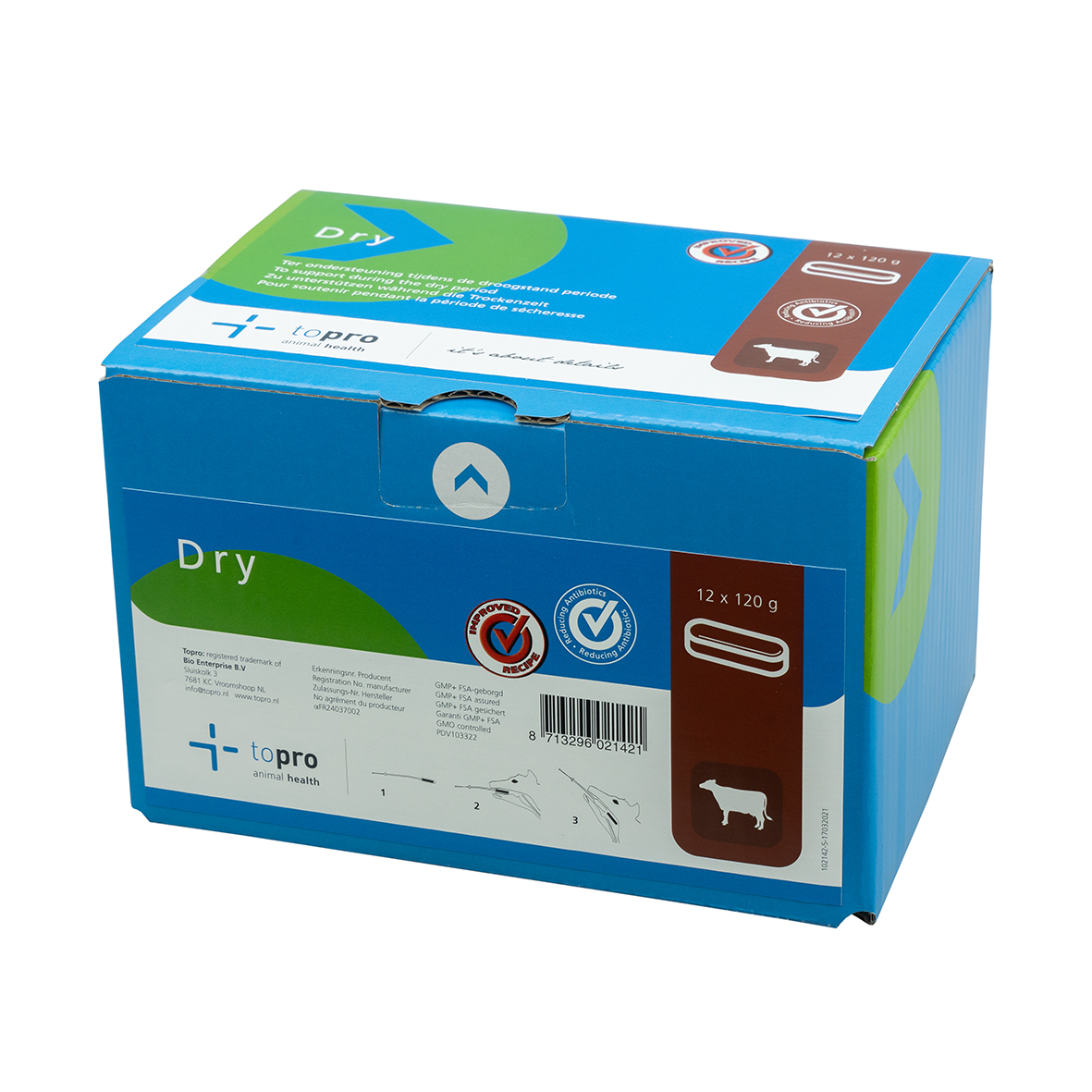 Topro Dry bolus is a mineral dietetic food in the form of a bolus, specially adapted for the dry period. The bolus provides a sustained release (60 days) of trace elements and vitamins to livestock.
Topro Dry bolus; Good vitamins and minerals
The Topro Dry bolus provides the animal with iodine, cobalt, copper, manganese, zinc, selenium, and vitamins A, D3 and E for 60 days. This supports an optimal preparation for calving, the start of lactation and optimal fertility.
Dosage Topro Dry bolus
Dairy cattle: administer 1 Dry bolus when drying out
Suckler cows: administer 1 Dry bolus 2 months before calving
Do not administer to young stock below 400 kg