Your youngstock, your future income
Calf rearing aspects have major direct and indirect influences on mortality and development of the young calf. Nutrition, housing, hygiene, and subsequently animal health are the most important themes within calf rearing (see Figure 1). All these factors require attention, because for optimal performance all details matter!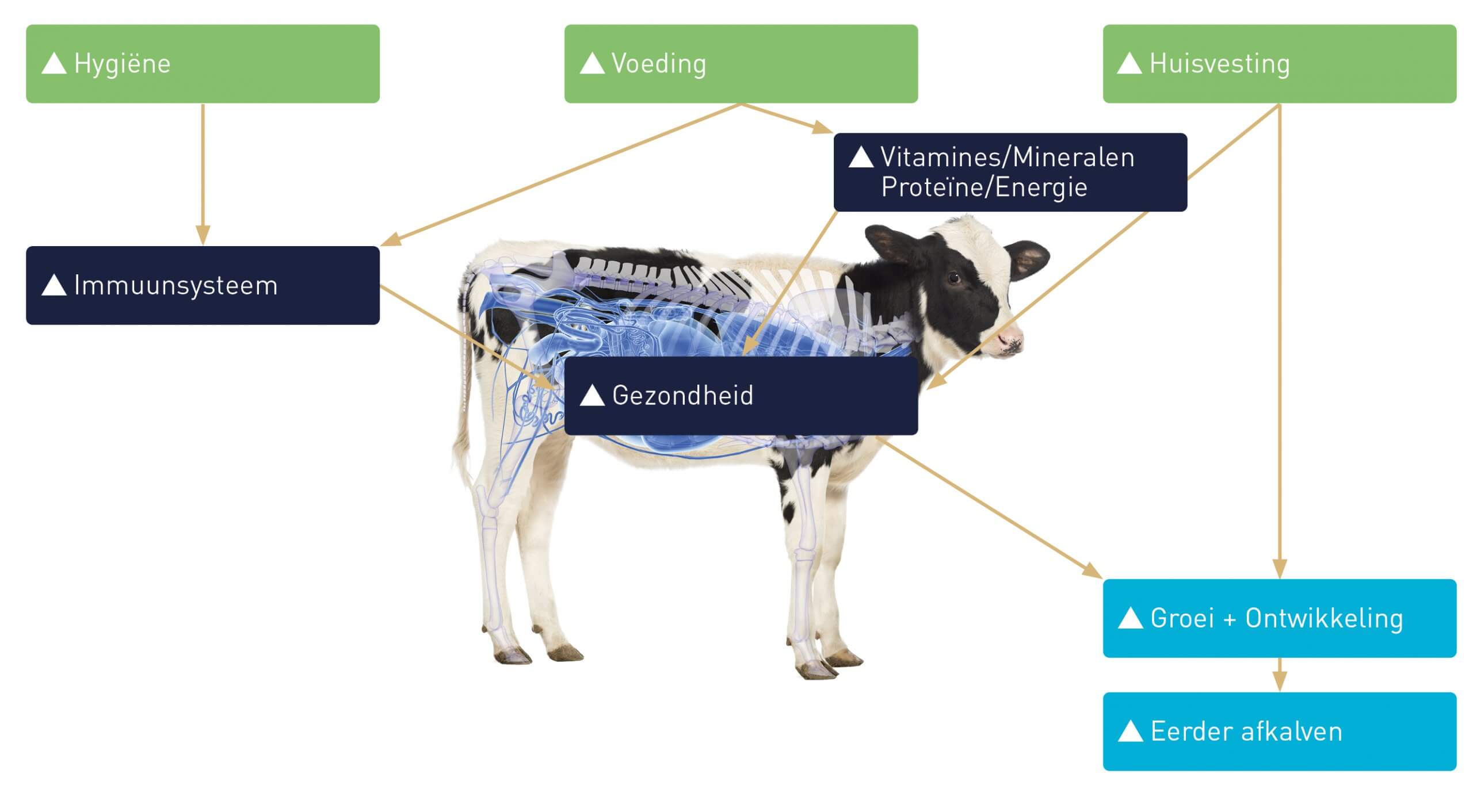 Bovenstaande afbeelding: De belangrijke thema's rondom kalveropfok en hun onderlinge samenhang.  (▲= verhogend effect  ▼= verlagend effect)
Nutrition
Calf nutrition consists initially of colostrum, followed by milk replacers and forages and concentrates. Adequate amounts, good quality, and hygienic supply are key for all dietary components. Choosing the right feeding strategy is important for obtaining optimal calf rearing results.
At birth, the young calf is devoid of antibodies, and is therefore not protected against pathogens. Cows do not transfer antibodies (immunoglobulins) to their offspring via the placenta. That is why colostrum is crucial for the survival of young calves. Of course, colostrum should be of excellent quality, but in practice this is not always the case. The colostrum quality may be assessed using a refractometer, determining the dry matter content and the proportion of immunoglobulins. When colostrum quality is low (less than 50 gram IgG per liter, Brix-value less than 22%), adding Topro Colostrum Mix may improve the quality. Next to immunoglobulins, also the supply of proteins and fats via the first milk is vital for the young calf.
After the colostrum phase, milk replacer is introduced. Recent studies have shown that supplying large quantities of milk up to weaning (on average 1 kg of dry matter per day in the pre-weaning period) results in a higher milk production during the first lactation. The high feeding strategy in the milk phase causes metabolic programming, which implies that the nutrition in the first eight weeks of life determines the later performances as dairy cow. This phenomenon affects – among others – the quality of the udder tissue and of other organs that develop during rearing. It is important to keep your calves healthy, enabling them to grow at a rate of at least 800 grams per day in the pre-weaning period.
Health
Diarrhea is a wide-spread problem in young calves. A calf suffering from diarrhoea has a 17-fold increased risk of respiratory tract problems. Also, the chance of premature culling of that animal in her first lactation is 2.5 times as high. This has considerable financial consequences for the dairy farmer. An outbreak of diarrhoea costs between € 75 and € 145 per calf. This comprises costs for medication, electrolyte drinks and veterinary visits alone. Diarrhoea also affects growth rate and retarded growth also costs money. Lower growth rate leads to insemination and calving at a later age, and to lower milk production in the first lactation.
An outbreak of diarrhoea causes one week of no growth in a heifer calf, causing a decline in future income of another € 75,- per calf. Therefore, one episode of diarrhoea in a heifer during rearing will costs at least € 150,- per calf (direct costs and future income losses). You can keep your calves healthy by paying attention to an adequate supply of vitamins, minerals and amino acids. If – despite these measures – diarrhoea occurs, calves will recover faster when an electrolyte drink is provided, together with products that support the calf's health (oregano oil, linseed, yeast cell walls). A bolus containing sodium bicarbonate may help to fight acidification, and to maintain the water intake of calves suffering from diarrhoea. Topro offers many products that help you to keep your calves healthy.
Lifetime production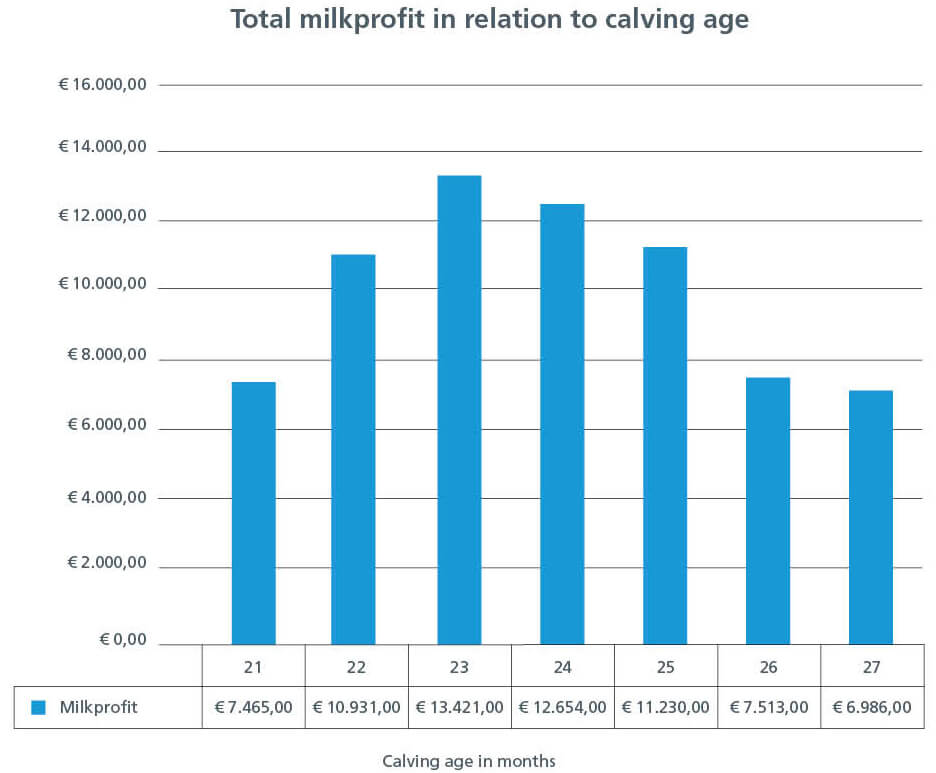 Attention to all details of calf rearing enables your heifers to deliver their first calf at an age of 23 months. Metabolically programmed calves grow faster and may be inseminated at a younger age. This means that the rearing of youngstock should be optimal and attention should be given to details. When all prerequisites are met, and heifers calf at an age of 23 months, this will yield tremendous benefits for the dairy farmer (see Figure 2).
Optimal calf rearing results in healthier youngstock, less mortality and culling, calving at a younger age, a higher lifetime production of your dairy cows, and lower rearing costs per litre of milk.
Total lifetime production in relation to age (months) at first calving of heifers  (Source: Schothorst, 2011)